Specialty Wetsuits for Professionals
In addition to producing individual custom fit wetsuits for consumers, JMJ has produced a wide range of neoprene products for Water Theme parks, the U.S. Military, Lifeguard and Police Departments, Camp Programs, and wetsuits and costumes for hundreds of motion picture, television and commercial productions.
As all our production is done at our factory in California we can quickly produce limited production runs designed to our customers' immediate needs. Below are some of the companies that we have worked with over the years. We invite you to join them.
Military
JMJ has produced wetsuits, hoods and boots for U.S. Navy swimmers as long as we have been in business. We custom fit Search & Rescue ensembles for ships operating out of San Diego, produce hundreds of 5mm Shorties for BUDS training, multi thickness EOD fullsuits with special pockets and pads, and many other styles for units on both coasts. All JMJ products are MADE IN USA.
Municipal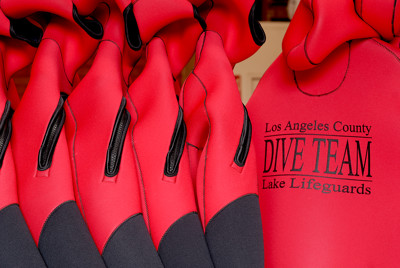 JMJ works with many Port Police, Lifeguard and Sheriff departments producing custom fit and designed wetsuits with Department logos and identification printed onto the wetsuit. Having all members of the Dive Team wearing the same design, colors, and identifiers helps build team cohesiveness and alerts the public to the team's activities. Our custom fitting abilities help insure that all members of the team can look and function equally well.
Theme Park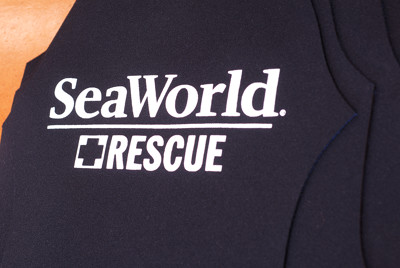 JMJ has produced custom designed wetsuits for Sea World Parks for over twenty years, for both the Entertainment divisions as well as the Animal Care and Animal Rescue workers. We have worked with major Aquariums and Zoos producing Fullsuits, Springsuits, hoods and boots that serve their particular needs.
Wetsuits can be produced in varying thicknesses from 1mm to 9mm, helping trainers who work both in and out of the water stay comfortable all day. Our suits are produced with only the Park's or organizations logos, allowing for a consistent company message.
CIMI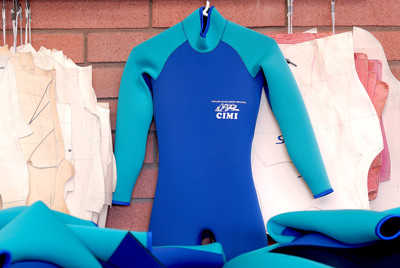 JMJ has worked with Catalina Island Marine Institute for over twenty years producing pants, jackets, vests & hoods in childrens sizes from 6XS on up. Many So. Cal divers first experienced the waters off Catalina in this waist high pant & beavertail jacket combo. Made with durable dive grade neoprene with brighter color sleeves and collar for visibility, this classic design can't be beat for function and versatility.
NASA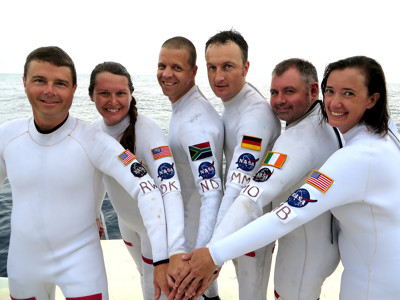 JMJ has built custom wetsuits for NASA training missions where astronauts from different countries train underwater to simulate weightlessness in space. These all-white wetsuits have specialty Velcro fasteners sewn in to the wetsuit so the astronauts can easily add and remove various patches.
Entertainment
With our close proximity to Hollywood, JMJ has long been involved in producing wetsuits and other garments for the entertainment industry. Beginning in 1997 with the film "Sphere" we have produced wetsuits for cast and crew in both custom fit individual suits and dozens of stock size, multi-thickness styles for extras and crew members.
Over the years and hundreds of different productions we have made colorful designs, free of manufacturer's logos, for on-camera use, as well as wetsuits designed to be worn under clothing and invisible to the camera. We have also produced skin tight garments for Green Screen production, as well as hundreds of custom fit Motion Capture suits for CGI filming. Well acquainted with the tight deadlines of the industry, we offer Rush Services that enable Costumers to keep their people warm and comfortable within a days notice.