JMJ Customer Reviews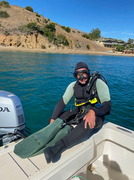 As a marine scientist, I teach scientific dive courses and conduct research projects off Catalina Island thoughout the year. Having grown up diving and surfing in Los Angeles, I've owned countless wetsuits…some work well, and others quickly fall apart. I need a wetsuit that is comfortable, durable and warm. My custom JMJ 5+5 mm farmer john and hooded jacket is the best dive wetsuit I've used. After several hundred dives not only is my JMJ still comfy and intact, but it's also as warm as the first day I bought it. Custom wetsuits are the way to go…I highly recommend buying a JMJ!
— David Ginsburg

I got my custom JMJ wetsuit and let me tell you, best decision I made. Keeps me warm and it super comfortable. Made just for me. I also purchased their Fleece coat. Love taking on boat dives. Thank you JMJ.
— Kai Lopez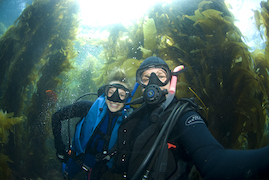 My family and I have been diving in JMJ wetsuits for the better part of the past 25 years. As a long-time SCUBA instructor and former scientific diver, I have access to a variety of different suits, but I really like the ones that Jeff and his crew builds. JMJ uses high-quality neoprene, the suits fit really well, they are warm, comfortable, rugged, and hold up to the kind of diving we typically do in the waters off southern California. When this one wears out, I will ask them to build me another.
— Harold Dorr, Educator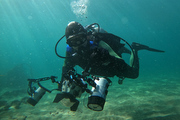 I dive in Southern California where the water gets pretty cold. Like down in to the low 50's cold.

I've tried many different wetsuits over the last 35 years; I remember hunting down and trying on every brand of suit I could find in search of the best fit. I bought the best I could find and thought it fit pretty well, but little did I know about what a good fit was. I had no idea there was such thing as a custom-fit wetsuit until about 2002 when a local expert recommended I try a JMJ. I knew when all the measurements were being taken that I was in for something new.

I got my new suit and all of a sudden I stayed warmer during my dives and my dives got longer. I had no trouble doing three consecutive hour-plus dives a day in the dead of Winter, and I was still able to feel my fingers and toes when I got out of the water!

I did hundreds of dives on that first JMJ, and it was still in good shape when I finally retired it and bought another.

Since then I've tried other suits, but I only buy JMJs because there is no equal. I've tried most of the styles they offer, and I can't find one that I don't like. For SCUBA diving I usually reach for my 5mm Fullsuit with Attached Hood in the Summer, or my One-Piece Fullsuit for snorkelling. When Winter comes I put a Hooded Vest on under the One-Piece Fullsuit or bust out the Farmer John and Beavertail Jacket combo for deep/multiple dives.

My advice to you is just get a JMJ…you will not be sorry.
— Derek Tarr, underwater photographer
derektarr.photo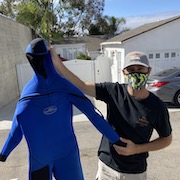 As a working Divemaster in the water every week with student divers, two things are critical: warmth and durability. When you are working in the pools and in the ocean with students and instructors, you spend a lot of time back and forth in and out of the water, carrying gear, climbing around on boat decks, etc. To make the most of that experience, having a great form-fitting wetsuit that can last is a must. The value you get out of a JMJ wetsuit is second to none. Value meaning what you get for what you pay, and the usability of the product. I use a fullsuit with attached hood 7mm with added thigh patch for the occasional spear fishing needs. This is a workhorse wetsuit that is super warm and comfortable, made to fit my exact dimensions. The fit is a big reason for the warmth and comfort - no loose neoprene creating folds and or restricting movement or allowing water to get in. The seams have stayed water tight and the knee pads have held up to a lot of kneeling on the bottom of pool surfaces and the ocean floor.

If you are seeking a great wetsuit that is form fit for added warmth and comfort, along with design and style, I would highly recommend a JMJ wetsuit. Whether you are a recreational diver, or working in the dive industry, these are the best suits.
— Todd Juneau, Divemaster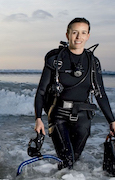 I purchased my first JMJ wetsuit and hooded vest when I started teaching diving, and I can't imagine diving in another wetsuit. Although a 7mm wetsuit can be less than comfortable, I never thought twice about my comfort level when wearing my JMJ. Once I donned the suit, it was like a second skin…OK, a very thick second skin…but I couldn't have asked for more out of a 7mm suit. I wanted to be able to maneuver and react quickly in the water with my students, and the JMJ suit allowed me to do just that. I have been diving with my suit for so many years, when it reached the end of it's natural life, I managed to save and continue using a portion of the suit and extend its life just a little bit longer! It's finally time to replace my wetsuit, and I have tried on many retail suits that just don't do the trick, so I think it's time to go back to JMJ!
— Wendy Pacofsky, President
Outdoor Travel Adventures